---
---
A Brief History of

Elkhorn City Railroad Museum
---
Founder of the Museum Edward "Chick" Spradlin
The Elkhorn City Railroad Museum started in the early 1990's. The museum was a brain child of Edward "Chick" Spradlin. Chick was retired from the CRR/CSX, he had about 40 years service, starting on the Clinchfield Railroad about 1947 as clerk. Chick was then appointed Agent/Yardmaster at Elkhorn City in the mid 1960s. He held that position until the big merger and the closing of Elkhorn Yard in April 1981. He then went to Shelby Yard as Assistant Trainmaster until he retired in the mid 1980s. A year or two after retirement, Chick got the idea of the museum and enlisted 3 or 4 other retirees from the CRR and the C&O (Ed Stone, and AN Stafford were his main help) and together they started accumulating all the artifacts. The building the museum is housed in was donated by a former coal operator. Chick passed away in June, 1999.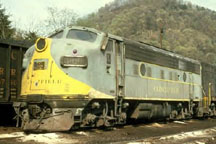 AN "Birdie" Stafford, Chick's right hand man, came to Elkhorn in 1949 a brand new hired hand clerk from Kingsport. He got married here in Kentucky and has been here ever since. He and Chick and the others ran up and down the Big Sandy and over in Virginia and begged, borrowed and stole about everything over at the museum. They even had the red caboose (the one with the CC&O stencil on it) trucked from Russell and spotted at the museum. It is actually an old C&O caboose built in the 1920s but Chick loved the Clinchfield so much, he stenciled it CC&O. After his wife passed away Birdie went to Florida to be near his daughter. However, he was still active in keeping the museum open 3 days a week until he left.

Ed Stone, who was also instrumental in the museum getting started, was a retired C&O carman working at Shelby. Numerous things at the museum have Ed's name on it, indicating that he was the donor. He and a friend Jerry Sloan, who is a retired C&O clerk took a big interest in the museum. Ed has since passed away, Jerry still donates 1 day a week at the museum.

Roy Owens grew up on the Clinchfield. His Dad, Cecil Owens, started on the CRR about 1920 as

clerk and was Agent/Yardmaster at Elkhorn Yard until his death in the early 1960s. (That's when Chick was made Agent/Yardmaster) Roy started out as a carman at Elkhorn Yard and was made Car Foreman, in the early 1970s. The only two so called "company men" at Elkhorn for about 40 or 50 years were Roy and his Dad, Cecil, and later "Chick". All other employees were union members from different crafts. When Elkhorn Yard was closed in April 1981, Roy was made General Car Foreman at Dante where he remained until his retirement in the late 1980s.

Morris Wallace started work on the Clinchfield in July 1952. Cecil Owens, Roy's dad, was instrumental in his hiring. Morris was a 17 year old who just got out of high school and needed a job. Cecil recommended him and Morris finally got started. He worked 2 years and was kicked off when "Birdie" returned from a short stint at Kingsport. Morris joined the Navy for 4 years and returned to work on his dear old Clinchfield in 1959. He worked all the clerk and clerk/operator jobs until CSX relocated to Shelby in 1981. At Shelby, he ended up being the Traveling Freight Agent, headquartered at Coal Run/Pikeville for 10 or 12 years. They then moved this position to Jacksonville, and Morris finished his railroading at Shelby Yard as Chief Clerk in 1997. He was so happy to leave after

almost 45 years, he worked on a Friday and his 62nd birthday was on Saturday and didn't go back.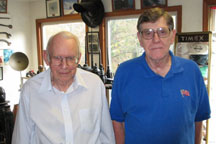 Roy Owens & Morris Wallace
The museum is now under the management of the Elkhorn City Heritage Council which is a local organization promoting the area. The individual in charge is Wendall Ward he is also retired from the CSX at Shelby Yard.
Roy Owens, Jerry Sloan and Morris Wallace (and others) volunteer time at the museum and keep it open. They managed in the past to get a little money from the County to repair the building and hope to renovate even more. The museum charges no admission, but they do have a donation box at the door and get a few bucks from that, plus they now have caps, license plates and other souvenirs for sale that bring a few dollars.
The hours at the museum are: 10 AM - 4 PM Tuesday through Saturday and 12 Noon until 4 PM on Sunday. Closed on Monday. (Also closed December, January and February) However, Roy and Morris who live in Elkhorn City are glad to accommodate anyone, anytime if they would like to visit after hours. The Museum is located on Pine Street, Elkhorn City, Kentucky.
To contact us click here.
---
---
Home | About Us | History | Photo Gallery | Links | Donation Info